Britain's first PFI privately funded NHS hospital is a 'major' fire safety risk, say fire fighters
Details

Published: Thursday, 22 June 2017 17:35
Written by Una
The NHS Trust that runs the hospital says the PFI deal has caused problems
From:  http://www.independent.co.uk/news/uk/politics/britain-s-first-pfi-privately-funded-nhs-hospital-is-a-major-fire-safety-risk-say-fire-fighters-10294388.html
Published 3rd June 2015  - Jon Stone
Update 22nd June 2017:   over 100 hospitals have been built in the UK since 2000 using PFI deals.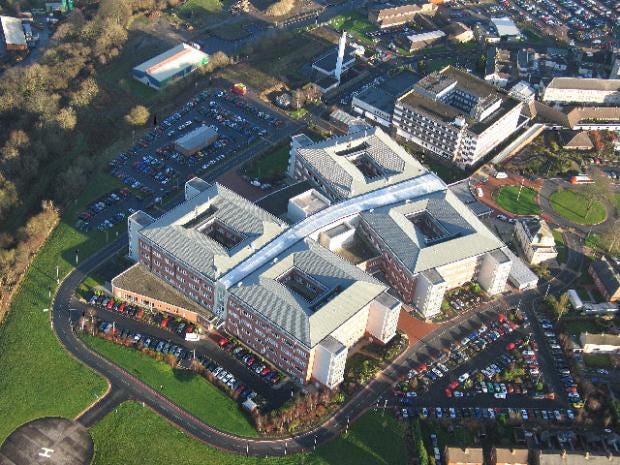 Britain's first NHS hospital financed and built by private capital is a "major" fire safety risk, fire fighters have said.
The Cumberland Infirmary in Carlisle was first opened in 2000 under the controversial "private finance initiative" which sees the NHS pay a private company rent-like payments to make use of facilities.
An independent report commissioned by the NHS trust that manages the hospital found that fire proofing materials installed by the private company did not meet the required protection standard to allow for save evacuation and prevent a fire from spreading across the building.
Local NHS bosses have given dozens of NHS staff members emergency fire safety training to step up safety while work to fix the problems caused by the original contractors goes on.
"It has to be asked why it has taken so long to identify the flaws in fire proofing materials used in the hospital's construction. The work to rectify this issue is expected to take up to 18 months," said Graeme Higgins, secretary of Cumbria's Fire Brigades Union.
"Public safety, especially the safety of vulnerable patients in hospitals, is of paramount importance to fire fighters. We would urge all stakeholders involved with PFI buildings in Cumbria to review the fire safety materials and procedures currently in use. In Carlisle alone we have two PFI fire stations."
Mr Higgins described the hospital as "one of Carlisle's biggest fire risks" and warned that service cuts could impair fire fighters' ability to respond to any incident.
Helen Ray, chief operating officer at North Cumbria University Hospitals NHS Trust, which is fixing the problems, was critical of the PFI deal.