STOP the new plans to dismantle our NHS
Details
Please sign the 38Degrees petition HERE

To:

Jeremy Hunt, Secretary of State for Health and Simon Stevens, CEO NHS England

STOP the destruction of our NHS. Call a halt to the Sustainability and Transformation Plans NOW
Why is this important?
This is the biggest attack on the NHS you've never heard of.
Junior Doctors seize PR initiative before all-out strike on 26th and 27th April
Details
Dr Rachel Clarke and Dr Dagan Lonsdale are two campaigning junior doctors. They are tired of Mr Hunt's abandoning talks between the BMA and the Government, and they have set up shop outside Richmond House, the Dept of Health's headquarters in Whitehall, waiting for him to appear and re-start talks: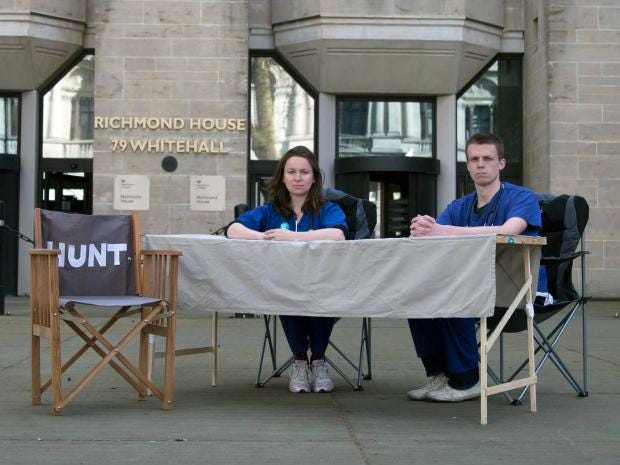 They have even brought their sleeping bags:
After 24 hours another pair of junior hospital doctors will take up the relay, for 12 hours per day for 7 days.

As Deeney21 writes under the Independent's article yesterday (http://www.independent.co.uk/news/uk/politics/junior-doctors-begin-permanent-protest-outside-department-of-health-a6981871.html):
Those who think this dispute is about greed need to wake up! As a junior doctor myself I can tell you that this is not the vocation of choice if making money is towards the top of your career wish list. Almost all junior doctors will have got top marks in their A levels – if they were concerned with money a career in the city/law/dentistry would have been a much smarter choice. To further reinforce this point if a junior doctor realised after completing med school that money was a major driver for him they would go and work for a pharmaceutical company (after completing the first two foundation years) rather than stay working in the NHS. Thirdly, although for various reasons it is seldom publicly said, it is the opinion of many junior doctors (and many others!) that this whole dispute and contract is part of a longer term Tory strategy to bring the NHS to its knees, enabling the Govt to justify privatization. If doctors were greedy, we would be looking forward to the day when this happens because private hospitals pay significantly better than the NHS (look how much doctors in the US are paid!)
Read more: Junior Doctors seize PR initiative before all-out strike on 26th and 27th April
Mansfield Report Meeting 23rd February 2016 at Hammersmith Town Hall
Details
The public packed into Hammersmith Town Hall on Tuesday evening to discuss the findings and ramifications of the Independent Healthcare Commission's report. They heard proposals to challenge the vague and uncosted NHS plans to cut A&Es and acute hospitals in NW London. This meeting was the follow-up to the publication of the Mansfield Commission's findings on 2nd December 2015.
The Leader of the Council, look Stephen Cowan, pharmacy told the meeting that he had started the ball rolling to halt the controversial plans by legal means.
Members of the crowd show their support for Charing Cross Hospitals and junior doctors
Oscar-winner and stage legend Vanessa Redgrave called a judicial review into the NHS plans "vital" and said the battle could be taken to the European Court of Human Rights.
The plans from NHS NW London, called "Shaping a Healthier Future" (SaHF) published in 2012, apparently aims to provide a better, more joined-up health and social care across North West London.
But it has resulted in the closure of the maternity ward at Ealing Hospital in July 2015, with the paediatrics unit shutting this year. SaHF has have also seen the A&Es at Hammersmith and Central Middlesex Hospitals close in Sept 2014.
An A&E 'in name only'
The meeting, held in the packed out Small Hall, was chaired by H&F's head of health Vivienne Luckey. On the panel joining her and Cllr Cowan were report commissioners Dr Stephen Hirst and Dr John Lister, and Save Our Hospitals chairman Patrick Barron.
The Independent Healthcare Report was commissioned in 2015 by H&F, Ealing, Hounslow, Harrow and Brent Councils and chaired by Michael Mansfield QC. When published in December it called SaHF "deeply flawed" and said closures must be reversed. It also recommended legal action to stop the plans if necessary (see article below of 4th December 2015 for list of findings and recommendations).
Actress Vanessa Redgrave spoke at the meeting, and is seen here with her son Carlo Nero, a screenwriter and film director and former chairman of the Save our Hospitals campaign
Cllr Cowan said NHS plans would see large chunks of the hospital in Fulham Palace Road, Hammersmith closed, with a replacement medical facility just 13% of its size.
He said an A&E, which the NHS has insisted will remain at the hospital, will be in name only and actually be an Urgent Care Clinic.
He spoke of the escalating costs of SaHF , and told a cheering crowd, numbering around 140 and including Hammersmith MP Andy Slaughter, that he had met with a QC to discuss taking legal measures.
He branded Jeremy Hunt "possibly the worst public health secretary in my lifetime" and warned: "We will do everything we can to save our hospital, and if that means taking our government to court that is exactly what we will do.
"We will sue them and we will JR (judicial review) them. There's nothing we won't do to save our hospital."
Dr Hirst warned of the tactic of "hollowing out" where institutions are told they could be closed, leading to fewer people applying to work there and standards dropping. "In this way you are precipitating the closure," he said. It is like "planning blight".
Dr Lister said the NHS had failed to provide a business plan despite several requests, and the closure of units without adequate replacement had placed huge pressure on other hospitals, as recent figures for the performance of the remaining A&Es attest.
Both disputed NHS claims the changes were "clinically led", which was backed by a junior doctor who believed "the majority of GPs are wholeheartedly opposed to it".
Dr Stephen Hirst addresses the meeting on the future of Charing Cross Hsopital. On the panel are (l-r) Patrick Barron, chairman of the Save Our Hospitals , council leader Stephen Cowan, H&F head of health Vivienne Luckey and report commissioner Dr John Lister
Tories 'not the bad guys'
Attending the meeting was opposition spokesman for health Andrew Brown . He said the commission's report raised important and valid points, and there was huge respect for the campaign to protect health services. But he felt the Labour group was wrong to paint the Conservatives as the bad guys.
He said: "While many individuals and the vast majority are here on an apolitical basis to protect our hospital, there is clearly an undercurrent behind the behaviour of the leadership. The focus of their opposition is the government when really the decision makers in this process is the NHS.
And rightly so, I would rather that the future decisions are taken by the NHS in corroboration with the public.
"Cllr Cowan has said that there is nothing he wouldn't do to defend Charing Cross but not once has he come to us to work with us to try to influence the NHS."